Home


Mt. Everest, the world's highest peak has been climbed many times, yet few have reached the top and many have died trying. Edmund Hillary and Tenzing Norgay (Nepalese Sherpa) were the first recognized to reach the top in 1954 after three tries.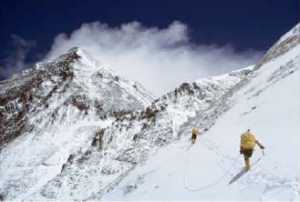 However, 30 years prior to that it was believed that George Mallory and Andrew Irvine made it to the top of Mt. Everest. In 1924 they were seen 800 feet from the top when a monsoon hit and covered them. They were never seen again! Until his body was found in 1999.
What was the biggest difference?
Of course, there was a difference in clothing and equipment over thirty years from Mallory to Hillary, but the guide was the real difference.
Reaching Your Financial Peak!
Today, few make it to their financial peak alone. Just like there was a huge difference for our climbers, today the proper guide can make the difference! You need one that has been there ahead of time and scouts things out and knows the best path. Bill Lehnertz has 30 + years watching too many who did not have the right tools or the right path that were not able to retire with dignity. He has trained financial professionals with the same caring and honest attitude that he brings to his clients.
He knows that the same thinking many have had in building their retirement nest egg might not get them to their destination. Over the years, like all of us, he has seen mistakes and made some great decisions. But, his openness and observations and desire to see his clients on the right path has shown time and time again that he can help build that path for others.
Everyone has a story, see how Bill can guide you to your next one.